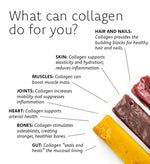 Why Collagen?
Collagen is the most abundant protein in the human body. As we age, our collagen production slows. This decrease looks like aging: wrinkles, joint pain, and muscle wasting. Studies are showing that oral collagen supplementation can combat the marks of aging on joints, arteries, bones, the gut, skin, hair, and nails.
TotumVos is committed to making collagen supplements that maximize quality and convenience without compromise. We use high-quality collagen from varied sources in a convenient form, along with necessary companion ingredients (such as Vitamin C) for full collagen synthesis. Each of our chews provides 6,500 mg of collagen, which meets the threshold for quantity showing results in studies.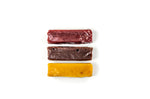 Why TotumVos?
First and foremost, TotumVos stands for quality. Inexpensive imported bovine collagen is everywhere these days. TotumVos chews contain 1/3 domestic, grass-fed bovine collagen, 1/3 deep-sea Icelandic Cod, 1/3 European organic chicken bone broth.
We aren't looking for the cheapest collagen; we are looking for the BEST collagen from multiple sources because different types of collagen address different needs within the body.
We have also included key companion ingredients, such as Vitamin C in a gelatin base, so the body can best utilize this superior collagen.
Our customers tell us that they look forward to their daily collagen treat! We are proud to offer the best quality in a truly convenient form.
Shop Now
"The chews made my Rosacea melt away. I've tried hundreds of dollars worth of product and this worked far better than anything else I have ever tried."

- Hollis M.

"These little chews are my breakfast! They keep the hunger away until lunch time, and I look forward to having one every morning! I've been on them for two months now and have noticed less joint pain, fast growing hair and nails, and clear skin. I keep coming back for more! Great customer service, and fast shipping!"

- Dawn V.

"These are delicious and a great way to get your collagen! Warning: Super addicting!"

- Lynn T.